Product information:
Product specifications:
Color: 3 colors
Material: sponge + pearl cotton
Is there a liner: there is a liner
Product size: 78*38*5cm
feature:
Thick padded cushion, soft and comfortable
High quality steel frame for long-term use
Can be adjusted in 5 gears to meet various needs
Can be used as a sofa or bed, convenient
Great for reading, watching TV, playing games, etc.
Provide extra seating
Suitable for living room, bedroom or any place you want
🌳【Sturdy steel skeleton】
The lazy sofa is soft and moderate, comfortable to sit, and the steel frame is durable and suitable for daily use. You can adjust the floor chair in multiple positions. It won't break, it's very durable and can be used for a long time.
🌳【Backrest adjustable】
The sofa chair has 5 adjustments or sitting or lying. You can adjust the position according to your body shape and find the most comfortable position for your body, and really relax at rest.
🌳【Filler + fabric】
The floor chair is filled with high-quality sponge + pearl cotton, and the elastic feel is flexible, wrapped in cotton and linen fabric, dry and breathable, thick and firm.
🌳【Advanced upholstered chair, easy to clean】
The back of the chair is provided with a non-woven inner sleeve, the outer sleeve has a zipper, the cushion is comfortable, and the elasticity is good, which is not easy to be soiled and convenient for daily cleaning.
🌳【Space-saving folding flat design】
The adjustable backrest not only provides a comfortable position for your body, but also allows you to store the floor chair in the most space-saving way. If you need to store it, you can fold it on both sides.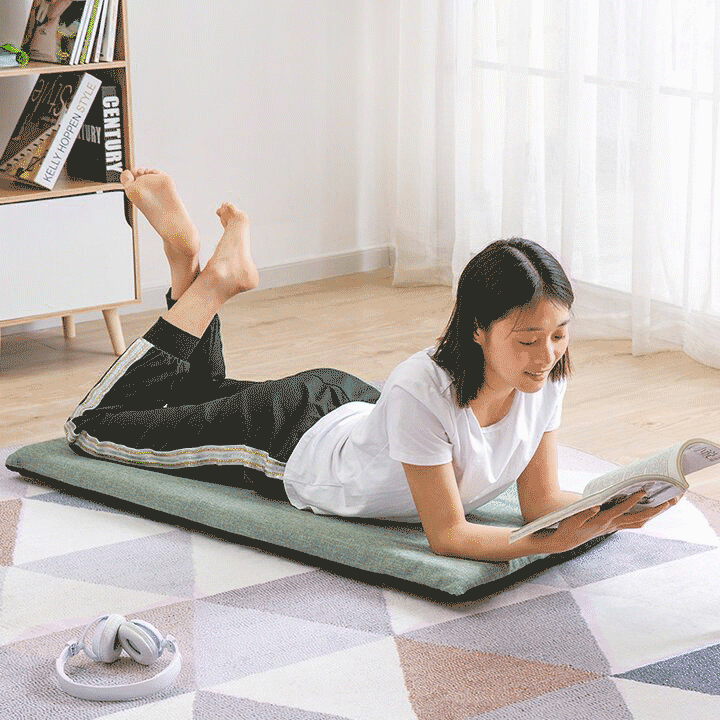 Comfortable fabric
Internal filling quality sponge + pearl cotton
Choose comfortable good elasticity and fluffy sponge + pearl cotton to fill enjoy languid is lazy time
The sofa frame
Strong bearing forceMore solid long service life
Humanized design can unpick and wash
Humanized zipper designSpecial design with quality zipper convenient unpick and wash clean effectively at any time
High quality fabrics
And we adopt quality fabrics bring you a comfortable enjoyment
As folding can sit can lie
Easy as folded closedWith five levels meet the different needs of you watching TV reading siesta as practical
Package Include:
1 x A back chair with bay window
Note:
Please refer to the measurement. Tiny measuring error is allowable in normal range.
There might be a little color difference due to the monitor, camera or other factors, please refer to the physical item.
Our Services:
Delivery within 45 days
30 days return
7x24 hours email customer service
Delivery method:Shipping
If you have any questions or concerns, please feel free to contact us.
We are happy to come from you, please contact us through the following ways:
Company Name: Shenzhen Lingchuang Network Technology Co., Ltd.
Email: lily@vipcservice.com
Address: Room 402, Building C, Huafeng Industrial Park (Hangcheng Avenue), Baoan District, Shenzhen, Guangdong, China