🌳【Breathable and comfortable fabric】
The seat cushion of the product is made of comfortable cotton and linen fabric with thick texture, soft texture, breathable and sweat-absorbent, and comfortable seat.
🌳【High resilience sponge seat cushion】
The interior of the product's seat cushion is filled with high elastic thick sponge, which has a soft texture, high resilience, and a comfortable seat feel.
🌳【The seat cushion cover is designed to be removable and washable】
The product seat cushion cover is designed to be removable and washable, which is easy to clean. You only need to remove the seat cushion cover to perform cleaning.
🌳【Strong carrying capacity】
The product has simple and beautiful appearance, strong and stable structure, not easy to shake, and strong bearing capacity.
🌳【Solid wood stool legs】
The products use solid wood stool feet, polished carefully, smooth without burrs and not hurting hands, high load bearing capacity, good stability, strong and durable.
Product information
◆ Material: linen, high density sponge, wood, non-slip foot pad
◆ Size: 28 * 28 * 25cm
Feature
◆ Save space: You can place them in the corner of the room without taking up much space, and can be used at any time when needed.
◆ Safety: There are foot pads on the legs of the stool, so it can prevent slipping and noise, and most importantly, it is very safe for children.
◆ The cushion is full of elastic cushion foam. Provides more softness and comfort.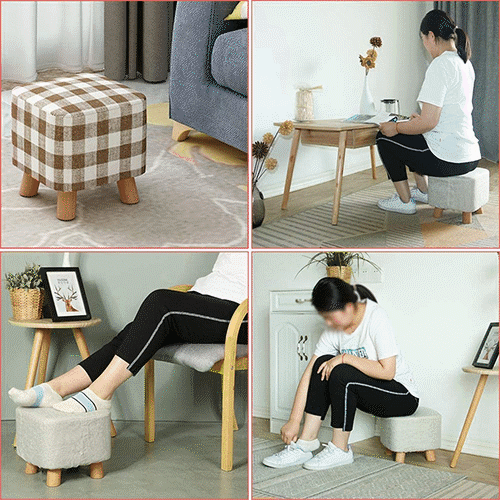 Small and flexible
You can put it in any corner of your home, occupying a small space
The fabric is made of cotton and linen, which makes sitting comfortable and more breathable
Once it touches the stain, it can be removed for cleaning
Super elastic
Package Include:
1 x stool
Note:
Please refer to the measurement. Tiny measuring error is allowable in normal range.
There might be a little color difference due to the monitor, camera or other factors, please refer to the physical item.
Our Services:
Delivery within 45 days
30 days return
7x24 hours email customer service
Delivery method:Shipping
If you have any questions or concerns, please feel free to contact us.
We are happy to come from you, please contact us through the following ways:
Company Name: Shenzhen Lingchuang Network Technology Co., Ltd.
Email: lily@vipcservice.com
Address: Room 402, Building C, Huafeng Industrial Park (Hangcheng Avenue), Baoan District, Shenzhen, Guangdong, China